Malachi-Sports Blogger
I am Malachi and this is Sports 101! I will be educating you about sports and issues surrounding players and teams that we either love or hate. To the sports world, where would we be without sports? We probably would be a third world country living as savages!
Quarterback Matt McGloin making a pass - ESPN Photo
Raiders Win on the Road
Oakland Raider's
quarterback
Matt McGloin
his first career start, defeating the downward spiraling
Houston
Texans
28-23. McGloin, a free agent walk on started in the place of injured quarterback
Terrell Pryor
, went 18-32 for 197 yards and three touchdowns. He got the ball out of his hands quickly and read through his progressions well. A quarterback controversy could be on the horizon in Oakland if McGloin has another good game. Wide Receiver
Rod Streater
caught five receptions for 84 yards and a touchdown.
Running back
Rashad Jennings
ran 22 times for 150 yards. The Raiders defense only gave up 155 passing yards and created two turnovers.
http://sportsillustrated.cnn.com/football/nfl/gameflash/2013/11/17/5612/
Official Brutality!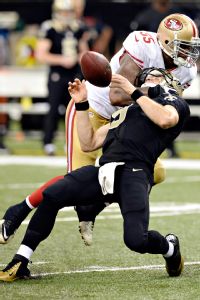 John David Mercer/USA TODAY
The
San Francisco 49ers
lost a heart breaker to the
New Orleans Saints
23-20 after a questionable call by the league officials. With 3:12 left in the fourth quarter, outside linebacker
Ahmad Brooks
viciously sacked Saints' quarterback
Drew Brees
, causing a fumble which was recovered by linebacker
Patrick Willis
. Brooks game changing play was nullified by penalty because the game official determined the sack was a roughing the quarterback penalty. Brooks right arm was beneath the neck area as he slammed Brees to the turf, causing his chin to bleed. As vicious as the hit looked the league got the call wrong, placing the 49ers in a tie for the last wild card spot.
Brooks commented, "I was just mad because that was a big play in the game. We lost, and that's probably the reason why."
49ers quarterback
Colin Kaepernick
threw for 127 yards, two touchdowns and was sacked three times. They continue to struggle to create separation at the receiver position as teams continue to load the box with extra defenders to stop running back
Frank Gore
. They are desperately awaiting the return of wide receiver
Michael Crabtree
, who was Kaepernick's favorite target last season. It is now clear that if the Niners make the playoff, they will make it as a wild card team.
http://www.sacbee.com/2013/11/17/5921426/controversial-call-costs-49ers.html
NBA News and Notes:
Stephen Curry
The Golden State Warriors are 8th in the league in points per game at 104.3 and 5th in the league in points allowed at 96.3. Point guard Stephen Curry sustained a concussion against the Utah Jazz. He is averaging 19.9 points, 8.7 assists, 3.7 rebounds and 1.7 steals per game this season.
Lakers' guard Kobe Bryant practiced with the team and is in the final stage of his recovery from a ruptured Achilles tendon. He will most likely play in Novemember.